INTRODUCING THE CAE RS-T MIDI FOOT CONTROLLER
FOR VIDEO TUTORIALS CLICK HERE!
FOR PRICING INFORMATION CLICK HERE!
The next generation of CAE RS Foot Controllers has arrived! For the past twenty years CAE RS Midi Foot Controllers have been at the forefront of guitar system technology. And for 10 years before that, CAE custom controllers set the standard for sleek foot controller design.Using rugged foot switches with ergonomic layout featuring both dedicated direct access switches for controlling effects along with bank and preset switches for setting up combinations. Even before midi was invented!

Features Include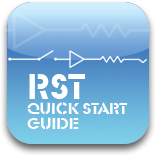 T is for TURBOCHARGED!
The RS-T utilizes a few powerful new features unique to CAE RS controllers:
ALPHA-NUMERIC DISPLAY
A large two line by 20 character vacuum fluorescent display for easy editing and present/song titling.
USER DEFINED SWITCHES - You decide how the switches will operate in any combination! Currently there are 16 different switch types, with more to come. Have any number of Presents and Direct Access Controllers with many controller types available such as global, momentary and interlocked. Always with 200 Banks and any Present Switch is still a Direct Controller in Direct Mode.
SEND MULTIPLE MIDI COMMANDS PER BANK/PRESET - Up to 8 devices can be controlled with their own midi channel (and titled for easy editing) and each DAC (Direct Access Controller or Note) can be globally assigned to its own midi channel and cc/note #.
VIRTUAL CONTROLLERS - In addition to controllers assigned to physical switches for Direct Access, 8 more controllers (with their own unique cc#s and midi channels) can be sent per Preset.
PRESET B - A completely independent controller can be programmed with its own unique set of physical Preset switches. It utilizes its own set of 8 program change commands with virtual cc#s, and is independent of Preset A (the main set of Bank/Presets). It is useful for globally controlling a device (or group of devices).
MULTI-COLORED SUPER BRIGHT LEDS - LEDs change color depending on their function. Blue for Presets, red for Direct Controllers etc...with 7 different colors available.
FOUR FULLY PROGRAMMABLE EXPRESSION PEDAL PORTS - Set each pedal for global operation, or have their midi channel AND controller# change per Preset.
INDEPENDENT MULTI RS-T NETWORKING - Have multiple RS-T's in various locations on stage all synced together, and all connected with standard mic cables.
SONG MODE- Create a Master Song List from Banks (With Individual Song Titles) and arrange them into 10 separate Song (Set) Lists, with 100 Songs per List!

FIRMWARE UPDATES VIA MIDI AND WITH USB CONNECTIVITY! - No more chip changes with updating features!
9VDC OUTS FOR PEDALS - 2x isolated and short circuit protected 9vdc (@150 ma total) outputs to power your wah/tuner or whatever else requires 9vdc, as long as you don't exceed the current limit.
NEW PEDALBOARD FRIENDLY FORM FACTOR - Measuring 22" x 5.5" x 3.5" tall, and only 4 lbs in a powder coated aluminum chassis, the RS-T is perfect for pedalboards and easy on the weight for travel.
RST 16 is 22" x 8.5" x 3.5" and 5.5 lbs.
RST 24 is 22" x 12" x 3.5" and 7 lbs.
RST 40 is 22" x 18" x 4.5" and 12 lbs

IN ADDITION TO THE NEW FEATURES MENTIONED ABOVE, THE CAE RS-T HAS FEATURES YOU HAVE COME TO EXPECT FROM OTHER RS FOOT CONTROLLERS LIKE THE RS-10 AND RS-5:
EXPANDABILITY - The RS-T can be expanded with up to 8 four switch or 4 eight switch Expander strips for a total of 40(!) switches. You connect to the Expand bus from either end of the RS-T with simple 5 pin DIN connectors. The expanders can be programmed to any combination of switch types, just like the 8 switches on the base unit. You want 200 Banks of 40 Presets? No problem!

Expanded chassis (with multiple Expanders internally wired) will be available on a special order basis.

DIRECT ACCESS CONTROLLERS - CAE foot controllers were founded on this concept. And in keeping with this tradition, the RS-T has a Direct Mode. That is, no matter how many physical switches are set up as Preset Switches, when selecting Direct Mode with the dedicated "Direct" switch, all switches (except Preset B assigned switches) become Driect Access controller switches and their respective active LEDs turn red.
XLR CONNECTIVITY - In addition to the industry standard midi (DIN) connectors, the RS-T has rugged professional XLR connections for interfacing with other CAE products. The XLR connection typically includes midi I/O as well as phantom power and other connections depending on specific user requirements. Consult CAE for your specific needs. XLR connections are also used for multi RS-T networking using standard microphone wiring.
HEAVY DUTY FOOT SWITCHES WITH A TACTILE FEEL - A CAE standard...enough said.
SIMPLE POWER REQUIREMENTS
9V AC or DC @ 1000 ma.
SPECIFICATIONS AND FEATURES SUBJECT TO CHANGE WITHOUT NOTICE. SHIPMENT EXPECTED TO BEGIN 1ST Q 2011.
FOR VIDEO TUTORIALS CLICK HERE!
FOR PRICING INFORMATION CLICK HERE!

Download Manual (234.5 KB)

Download Technical Specs (288.0 KB)