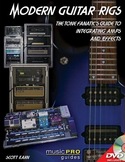 New Book on Guitar Rigs
7.27.2011
Want to learn more about guitar rigs?

Check out Scott Kahn's new book "Modern Guitar Rigs "

There s a ton of information on what it takes to create a "Modern Guitar Rig", hence the title! A few CAE products get some ink, and I even did an interview I'm not embarrassed about. The only issue I have about books like this is that they are a little dated by the time they are published. But this book has a wealth of information that should be useful for years to come.
Well done, Scott!
The Amazing MC404 Wah
11.27.2011
Dunlop Manufacturing presents another member of the Cry Baby product l...

---

RST Quick Start Guide
11.20.2011
Here is a Quick Start Guide to the RST Midi Foot controller. Expect up...

---

RS-T Update
8.24.2011
Head on over to our RS-T page to see the new software update!...

---
News Archives
ROCKTRON/BRADSHAW RSB 12/18 MANUAL
8.2.2011
---
New Book on Guitar Rigs
7.27.2011
---
RST MIDI Foot Controller Pricing
5.10.2011
---
New for 2011!
12.29.2010
---
A meeting with Billy Gibbons
10.13.2009
---
CAE 3+ PREAMP SPECIAL PRICE REDUCTION!
10.12.2009
---
RS-5 Video Demo
10.10.2009
---
New Post on Live Recording
10.9.2009
---
New Photos Added
10.7.2009
---
The Wet/Dry System Approach
10.4.2009
---
Trey Anastasio Video Posted
10.3.2009
---
CAE Launches New Website
9.29.2009
---