Super Summer Special
6.9.2011
NEW LOWER COST ON CUSTOM SWITCHER ORDERS AS OF 6/10 2011!!
A Note from Bob Bradshaw:

For over 30 years, CAE custom switching systems have set the industry standard in quality, reliability and features. Every "switching system" for guitar in existence today owes a debt to this format.
CAE audio switchers are not off-the-shelf products. Each are hand built to your exact specifications with little or no compromise in features. You get exactly what you need and often more than you expected as I typically build in features you wouldn't normally think of.This is based on my years of experience building systems for professionals the world over. But you don't have to be a "pro" to benefit from my experience.
Anyone can order a custom switcher from CAE. Its easy! And you can always consult with me (at no charge) to determine what you need. See order form to total up your list of features and determine the cost.
CAE Custom Switchers can be configured in 1U rack mount or pedalboard (PSS) formats. The cost is the same. Note that the PSS format can be rack mounted as well, but takes up 2U of vertical rack space, while being only 3.5" deep.
1U rack mount chassis are 8" deep.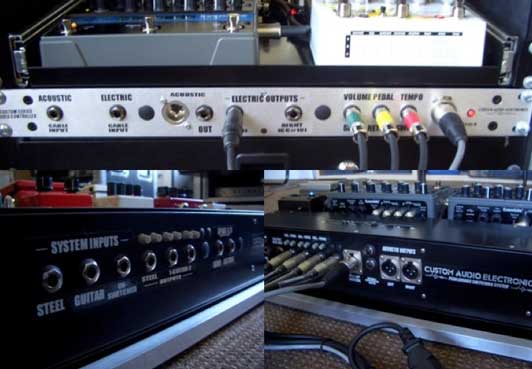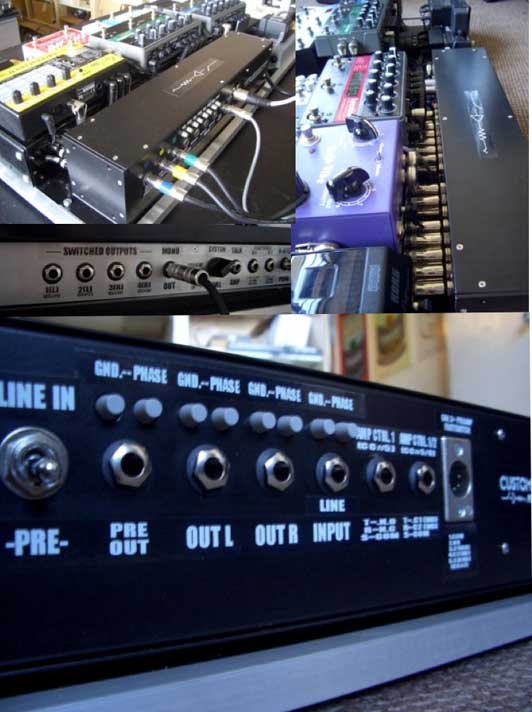 REGULAR COST OF A CUSTOM SWITCHER FROM CAE IS USUALLY $100 PER SWITCHABLE FUNCTION, AND $65 PER ISO JACK, WITH MOST OTHER FEATURES INCLUDED IN THIS PRICE.
THE NEW COST IS:
$75 PER MONO BYPASS LOOP*
$100 PER STEREO BYPASS LOOP**
$50 PER SWITCHABLE OUTPUT (OR SEND)***
$50 PER CONTROL FUNCTION****
$50 PER ISO JACK ($65 with Phase and Lift switches; PSS only)*****
* A mono bypass loop is a relay based midi controlled audio circuit either discrete (with Input, Output, Send and Return 1/4" jacks), or part of a signal chain with internally connected (or just one set of) input and output jacks, with 1/4" jacks only for Send And Return.
* A stereo bypass loop is the same as above but with 2x audio channels and usually controlled by one (unless requested otherwise) midi cc#.
*** A switchable output (or send) is just that: a midi controlled audio output (or effects send) with no return path. Typically used for amplifier selecting or sending signal to an effects processor input that then outputs to a line mixer. On 1/4" jacks.
**** Control Functions are isolated relay contact closures most often used for amplifier channel switching or wherever a "footswitch type" function is required. Both Normally open and Normally closed contacts are provided on a TRS 1/4" jack.
*****ISO Jacks are unique transformer circuits built right on to the 1/4" jack connector. They are used for isolating circuit ground to prevent ground loop hum, primarily to amp/preamp inputs or amp effects loop returns.
HIGHLY RECOMMENDED FOR VIRTUALLY ALL SYSTEMS!
Please Note:
While I can provide up to 17 switching elements (relays) in a single rack space chassis or PSS, the total mount of switchable functions ultimately depends on 1/4" jack count, and stereo vs. mono loop requirements, etc, so this must be kept in mind when designing a Custom Switching System. Call for details...

INCLUDED AT NO ADDITIONAL COST:
1/4" patch inserts for external effects such as Wah/Volume pedals and Tuners
Up to 4 high quality/high headroom active circuits configured as either signal "buffers" or simple audio mixers for creating parallel signal paths. Note: CAE switchers are relay based, and thus primarily passive in nature. Active circuits are placed in the signal path only where necessary (using high quality Burr Brown op amps) to insure signal integrity.
Rugged, reliable XLR connections for the foot controller.
Power supply for worldwide use.

THE NEW RST MIDI FOOT CONTROLLER
CAE Custom Switchers are universal midi devices. That is, each switchable function in a custom switcher responds to a specific midi cc# (continuous controller) command in omni mode and will work with any midi controller that sends these multiple cc commands. Custom Switcher cc#s are fixed and cannot be changed.

But the obvious best choice for controlling a CAE custom switcher is the new RST!

The RST Midi Foot Controller comes in several different sizes (and can be expanded with 4 and 8 switch versions coming soon).

Determining the RST size to go along with your new Custom Switcher depends on how you want to operate the system with regard to Direct Access and Presets of its various switchable functions.
CAE System designs are based on having "Direct Access" to as many switchable functions in your guitar rig as possible. I developed this approach over 30 years ago and it has been a mainstay of my designs ever since. This is why CAE foot controllers have so many switches on them!

All RST physical switches (with the exception of the top row Bank and programming switches) are user assignable as to their function.

Basically, an RST foot controller assignable switch is either a Direct Access Controller ( or DAC) switch (one of several different types) or a Preset switch. Or BOTH. See RST info for a list of different switch types.

A Direct Access Controller (DAC) switch is:
A single physical RST foot switch assigned a midi continuous controller (cc) # (or note) on a user assigned channel used to control 1 specific function in a CAE Custom Switcher.

A Preset switch is:
A physical RST foot switch assigned to be 1 of any number (up to the maximum number of RST assignable switches) of mutually exclusive switches that when selected sends a user programmable combination of:
Direct Access Controllers (DAC) state combinations stored in that particular Preset.
Up to 8 user assigned midi program changes on 8 separate channels.
Up to 8 user assignable Virtual Controller States
Up to 4 cc pedal states (Pedal 1 thru Pedal 4)
Note:
No matter how may Presets you choose to assign, Preset switches are still DAC switches when in Direct Mode.

So in order to determine which size RST is right to control your Custom Switcher, count the number of switchable functions you will have then pick an RST size based on that number. If you want Direct Access to all of your switchable functions AND you want Preset switches as well (without having to go into Direct Mode), choose an RST with more switches than switchable functions in the Custom Switcher.

Note:
No matter what RST size you choose, you still have 8 Virtual Controllers(VCAs) whose states can be sent out via Preset switch selection in addition to the combination of physical switch controllers (DACs).

So If you plan to work primarily from Presets, and Direct Access to switchable functions is not so important to you, you can choose an RST with fewer physical switches, and utilize the 8 Virtual Controllers to control the switchable functions in your Custom Switcher.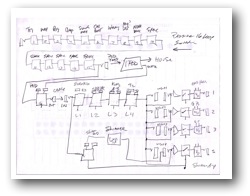 Example:
Lets say you order a Custom Switcher with:
8x Mono loops @$75 each
2x Stereo loops @$100 each
2x Switchable outputs @$50 each
2x Control Functions @$50 each(to channel switch the amps)
2x ISO Jacks for the outputs to amps @$50 each
This means you have 14 switchable functions in your Custom Switcher.
Total cost of this Custom Switcher would be $1,100 (Regular cost $1,630)
Now you could control this switcher with a base unit RST (with 8 switches) but you would have to assign 8 of the switchable functions to the 8 physical switches and 6 to Virtual Controllers (in any combination).
And you could still assign Preset switches (up to 8) but you would have to use Direct Mode to access the physical DAC switches.
OR:
You could use a RST 16 and assign 14 of the foot switches to control all 14 of your switchable functions.
Therefore, all of your switchable functions in the Custom Switcher would be controlled by a dedicated Direct Access switch on the RST. This leaves 2 switches left over to be assigned as Presets. This is probably not enough Preset switches, so you could assign more physical switches as Preset switches and let those switches share duty as both Preset switches and DAC(Direct Access Controller) switches. Remember: all switches assigned as Presets are also DAC switches in Direct Mode. Or use an RST-24 and have plenty of dedicated physical switches for eveything!!
OR:
Add a 4 or 8 switch expander (available soon), and assign those switches to be Presets! And always 200 Banks no matter what size you choose.
The possibilities are endless! You can always find a size to suit your needs.
RST $799
RST-16 $1099
RST-24 $1399
Save an additional 10% on any size RST when ordering with a Custom Switcher!!
Please Note:
I am very generous when it comes to including additional features at no additional charge (within reason!). So let me know any unique needs you may have when ordering.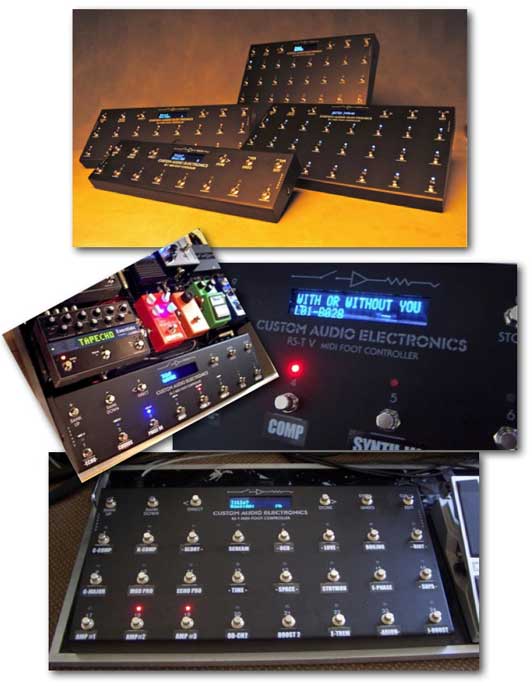 The Amazing MC404 Wah
11.27.2011
Dunlop Manufacturing presents another member of the Cry Baby product l...

---

RST Quick Start Guide
11.20.2011
Here is a Quick Start Guide to the RST Midi Foot controller. Expect up...

---

RS-T Update
8.24.2011
Head on over to our RS-T page to see the new software update!...

---
News Archives
ROCKTRON/BRADSHAW RSB 12/18 MANUAL
8.2.2011
---
New Book on Guitar Rigs
7.27.2011
---
Super Summer Special
6.9.2011
---
RST MIDI Foot Controller Pricing
5.10.2011
---
New for 2011!
12.29.2010
---
CAE/MXR PLI NOW IN STOCK
12.15.2009
---
A meeting with Billy Gibbons
10.13.2009
---
CAE 3+ PREAMP SPECIAL PRICE REDUCTION!
10.12.2009
---
RS-5 Video Demo
10.10.2009
---
New Post on Live Recording
10.9.2009
---
New Photos Added
10.7.2009
---
The Wet/Dry System Approach
10.4.2009
---
Trey Anastasio Video Posted
10.3.2009
---
Michael Landau Video Posted
10.2.2009
---
CAE Launches New Website
9.29.2009
---
3+ SE Guitar Preamps On Sale thru OCTOBER!
9.22.2009
---